Written By Phil Bucknall of Clearwater Airsoft.
KWA QRF Mod1 Review – the best PCC available?
If you haven't noticed there has been a trend in real steel shooting for Pistol calibre carbines or PCC's. They are kind of like a cross between a dedicated submachine gun and a short barrelled carbine for a larger calibre round. The benefit of this is obviously the additional weight from using a bigger chassis is recoil control making them easier to use. As the vast majority are based loosely around the AR receiver groups it makes training and use far more natural as most people who have one will invariably have an AR as well!
Now in the airsoft gun realm there is little need for recoil mitigation; heck, we go out of our way to spend silly amounts of money on guns that simulate recoil – I'm looking at you Mr Mk46 NGRS! But the style and handling of these PCC's means they do lend themselves well to airsoft guns; especially if you are looking for a prefect little CQB gun.
If a PCC does grab your fancy then there is a veritable smorgasbord of different models from a wide variety of manufacturers – G&G's ARP-9 is probably one of the most widely used from what I have seen on sites but KWA has been steadily releasing their take for a while now. They started with their TK45 ronin range, which featured a full stocked ERG recoil version and a shorter non-recoiling tanker stocked model. Whilst these both performed really well; neither really jumped out at me as ones I would like to personally own.
Skip forward a bit and KWA announced they would be releasing two PCC's the Mod0 and the Mod1. Both were in the same style as the T6 but with "9mm" magazines. The Mod0 coming with straight mags – the TK45 ones I believe and the Mod1 with curved polymer mags. The stocks were also slightly different but more on that later.
In my mind the Mod1 is similar to the venerable HK MP5. In fact; it looks like a reimagined modern take on the MP5, which is no bad thing as it was a style icon and probably one of the few guns Joe public could usually identify (thanks mainly to John McLane and the Die Hard franchise)
Starting at the rear of the gun there is a small convex stock – again a nod to the classic design of the MP5 – on a wire stock. Obviously there is some flex in the stock due to its construction but it clicks into place nicely and doesn't feel like its just waiting to collapse at any given moment. Where the buffer tube would be on an AR there is a contoured battery box.
I use Titan Li-ion batteries in all of my guns and I have a 7.4v split pack 3000mah that fits in beautifully. There is a double sling loop at the rear of the receiver and an ambidextrous charging handle. Grip duties are taken care of by the very comfy and durable PTS EPG-C pistol grip, one of my favourite ones due to the slightly more vertical grip angle. There are polymer ambi fire controls which are very positive in their movement with no play between positions.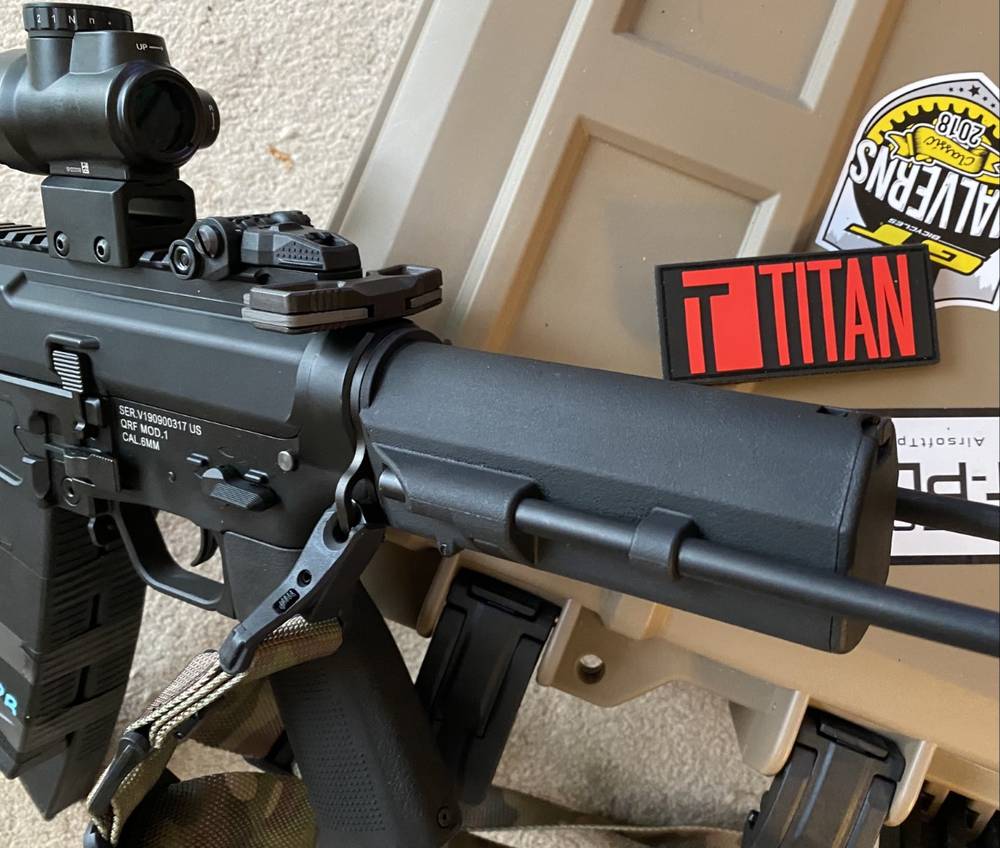 The trigger guard is large enough to be comfy even with thick gloves on and just in front of this is one of three magazine releases. It is a little paddle that you push forward to remove the mag. There is another on the side of the receiver. This one is extended and very easy to reach without removing your hand from the grip. Above the mag release is an ambidextrous bolt release. Useful when adjusting the rotary hop unit without needing to hold the bolt plate back manually. There is another bolt release and magazine release on the left hand side of the receiver so all in all it is a gun that is comfy to shoot regardless of what handedness you are and you are never far away from a control when needed.
On top of the receiver is a set of the rather excellent PTS polymer BUIS – got to say I am a big fan of these and also the ongoing collaboration between KWA Airsoft and PTS that sees their guns specced with some very high quality components. The gun also comes with a couple of MLOK rail segments so that you can fit any accessories you have with minimal fuss.
Magazine wise the Mod1 uses propriety curved polymer 85rnd offerings. To me they look like how I'd imagine a MP5 mag would look if it were designed today. They don't have any play when in the gun but don't take monumental efforts to remove either. They are sturdy enough and have withstood some pretty rough handling but have never failed to feed any of the weights of BB's I tried in them. Thanks to KWA's extended follower they also feed every last BB so none will drop out when its empty. Thanks to some ridges in strategic places they are easy to handle when covered in mud or when wet and they fit in the standard 9mm calibre SMG mag pouches I have.
Internally the QRF Mod1 uses the AEG 2.5 gearbox, which means you can adjust the FPS really easily using the provided T-handled allan wrench. Need it slightly lower for CQB? Not a problem!
Want a bit more punch for woodland games then you can have that too; all without having to open the gun up or change the springs.
There is a high torque motor in the pistol grip with switch life extender and high speed gears are in residence in the gearbox.
All this combined gave me a RoF of around 16-19 rounds per second and a FPS of 300 on the nose using 0.28g BB's. This was without adjusting the spring either. The only change I made to the stock gun was a change in hop rubber. I swapped the KWA one for a Guarder clear as I tend to do in all of my guns. It is a perennial problem with KWA's at UK power levels and one I keep on mentioning in the hope they will one day change it because the supplied rubber is just too hard for UK power levels. Unlike my ERG's; swapping the hop rubber was a piece of cake and took but a couple of minutes but it transformed the gun giving it an effective range of 55-60m. The BB's started to drift a little at the extremes but it was more than competent and very capable of holding its own against even some heavily upgraded guns. As this is the 2.5 version gearbox it is also possible to upgrade the trigger switch to a GATE titan, a very popular addition to the gun.
I found that I needed to have the stock all the way out to be comfy but my son also used the Mod1 due to its size and lightweight – a shade under 2.5kgs but he had it in the first position and found it to work perfectly for him also.
The Mod1 is a beaut to shoot. It's light weight and short length make transitioning between targets really snappy and the trigger response coupled with a decent rate of fire means it doesn't take long before you are putting down some fire. It has quite a distinctive sound to it and on an 11.1v battery it really sounds like someone has shrunk an A-10 warthog into an AEG sized package.
All in all it is a very well put together little hybrid PCC. It ticks a lot of boxes and pretty much everyone who had a hold of it or a go could see it was a quality AEG.
I know that this category isn't to everyones tastes and there is a glut of them on the market, most of which are cheaper than the asking price of the KWA but most aren't finished to as high a spec and built so solidly. It is definitely worth your consideration and will put a smile on your face if you do get one.