Knives
Here you'll find a range of top-quality knives tailored to meet the demands of outdoor enthusiasts and survivalists alike. From versatile multi-purpose blades to specialized tactical knives, we have everything you need to tackle any challenge that comes your way.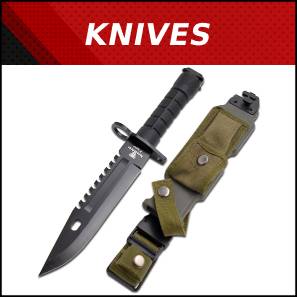 Show Filters
Showing 1–12 of 103 results
Showing 1–12 of 103 results
Our collection features a handpicked selection of knives crafted from premium materials and designed for durability, functionality, and precision. Whether you're an airsoft enthusiast, a camping enthusiast, or a survivalist, our knives are the perfect companion for your outdoor adventures.
Choose from an array of folding knives, fixed-blade knives, and multi-tools, each offering unique features and benefits. Folding knives provide convenient portability, while fixed-blade knives offer extra strength and reliability for more demanding tasks. Our multi-tools combine the versatility of several tools in one compact package, ensuring you're prepared for any situation.
Our knives are sourced from renowned manufacturers who prioritize craftsmanship and attention to detail. The blades are made from high-quality stainless steel or carbon steel, known for their exceptional sharpness, corrosion resistance, and edge retention. The handles are designed for ergonomic comfort and provide a secure grip, even in wet or challenging conditions.
Whether you need a versatile utility knife for everyday tasks, a sturdy survival knife for wilderness adventures, or a tactical knife for tactical situations, our collection has the perfect option to meet your needs. Our team of experts is dedicated to helping you find the ideal knife that aligns with your requirements and preferences.
Safety is paramount, and we understand the importance of responsible knife handling. That's why we also offer a range of accessories, including protective sheaths, sharpening tools, and maintenance kits, to ensure that your knives remain in optimal condition and ready for action.
Explore our Knives section within the Outdoor and Survival category and equip yourself with the ultimate cutting tools for your airsoft endeavors and outdoor pursuits. With our premium selection and commitment to customer satisfaction, you can rely on us to provide you with the best knives for your adventures. Begin your exploration now and experience the power and precision that our knives bring to your outdoor experiences.
All sales of knifes and bladed items can only be conducted to those over the age of 18 years. Valid ID must also be supplied at the time of order i.e. Driving License or Passport. If you have ordered online, you can speed up the order processing time by sending your ID details to [email protected]
ID will be checked by courier on delivery. In store sales must also include ID.