ASG
Defcon Airsoft are proud to be a 'Premium Retailer' of ASG products. ActionSportGames (ASG) is a worldwide leader in the business of replica firearms and accessories manufacturing – including Airsoft guns, Airguns, CO2 guns and firearms replicas. We specialize in 1:1 scale replica guns and accessories for fun, action, sports, entertainment and collection.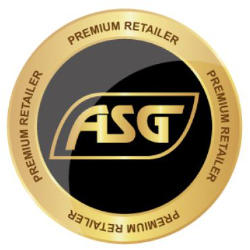 Show Filters
Showing 1–12 of 136 results
Showing 1–12 of 136 results
Action Sport Games (ASG)
Today, ASG are an international corporation with worldwide presence in more than 60 countries, operated from our headquarters in Denmark as well as from our subsidiaries in the US, UK, France and Sweden. We have come from being a local trade company, distributing our products to being able to design, develop and manufacture products and accessories for the industries. Today we're proud to be recognized as the innovator and manufacturer of the CZ EVO3 A1 AEG and having introduced several Airsoft versions of this popular Airsoft gun to the market.
One of our goals is to become the preferred supplier in the firearms replica business through worldwide license agreements, quality brands and premium service – before, during and after sales.
VISION
It is our vision to be the preferred business partner and market leader on the global market within action oriented leisure time and hobby articles for entertainment, sport and personal challenge (within the category Airsoft & Airguns with related accessories)
VALUES
Dedication
Is a factor of success for ActionSportGames through common identity, focus and commitment.

Entrepreneurship
Is expressed through the focus on innovation and development.

Service
Is provided by a vigorous team. Cohesiveness, meticulosity as well as the desire and will to be the best, will ensure the customer service, skills and speed. These values are furthermore complied by our ability to operate rationally based on facts and efficient management systems.

Knowledge
Is expressed through insight in the business, product know-how, professionalism and technical skills.