Airsoft HPA
HPA Airsoft Guns, Equipment and Accessories:
HPA stands for High-Pressure Air and is a different way to power your airsoft guns. Unlike most gas-powered airsoft guns on the market, which use internal gas cartridges or canisters (often housed within the gun's magazines), HPA systems use external pressurised air canisters, similar to paintball guns.
These large, external canisters provide significantly more power to HPA systems than traditional gas rifles, allowing for a variety of performance enhancements not seen with traditional gas systems.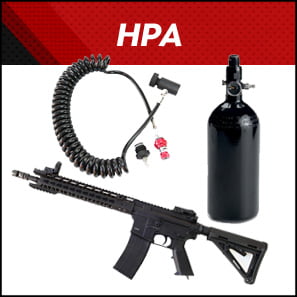 Show Filters
Showing 1–12 of 32 results
Showing 1–12 of 32 results