What is Airsoft?
Airsoft is the name giving to a type of simulated combat sport similar to paintball. Using replica guns that fire plastic pellets, players on opposing sides battle it out in action based games at registered airsoft skirmish sites generally located out in the countryside or in old buildings that have been specifically adapted and insured for the purpose.
If you are interested in finding out more about Airsoft then we have put together a What Is Airsoft? blog post which goes into all of the details.
Who Are Defcon Airsoft?
Defcon Airsoft is a UK airsoft store based in the Midlands, we aim to offer a wide range of products and excellent customer service as well as providing useful news, reviews and information for airsofters nationwide.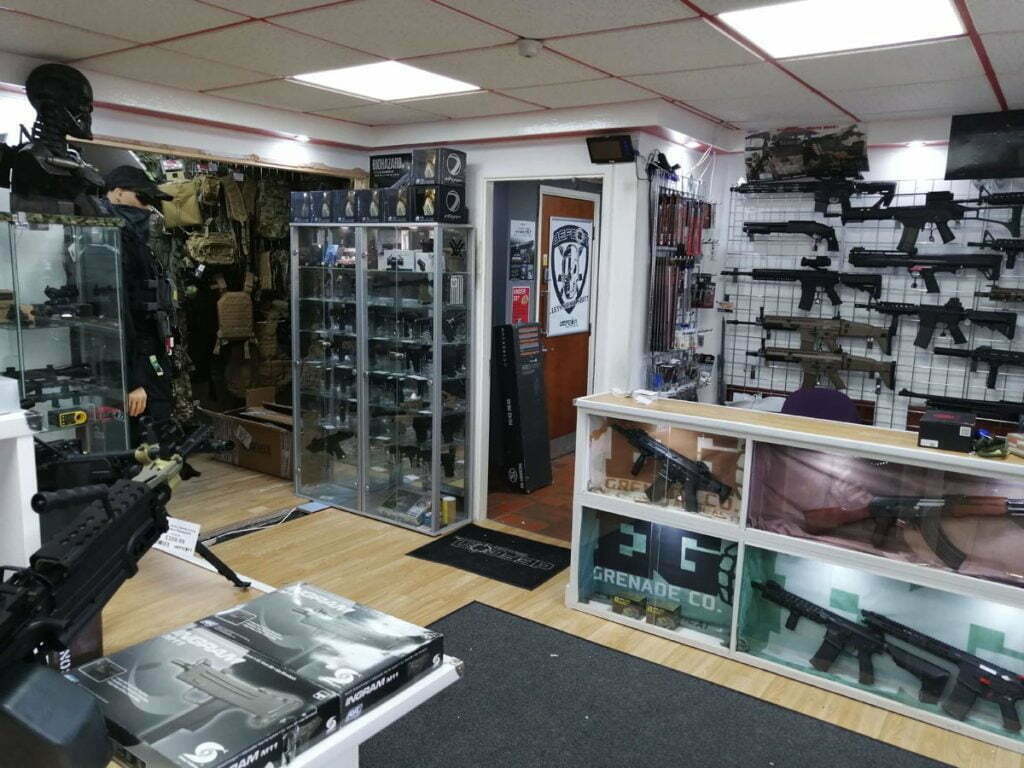 Defcon Airsoft
2a Stanton Road, Stoke-on-Trent
Staffordshire,
ST3 6DD
Phone: 01782 479121
Email: [email protected]
Limited Company No: 07630570
Opening Hours:
| | |
| --- | --- |
| Sun: | CLOSED |
| Mon-Fri: | 9:30 am – 5:00 pm |
| Sat: | 10:00 am – 5:00 pm |
How to find us:
Exit the A50 in Stoke-on-Trent at the Meir tunnel and take the Weston Road exit in the Leek direction at the roundabout above the tunnel, we are just 100 metres from the A50 on your right hand side in Stanton Road.
Please Note: There is a one way system in place and you cannot access Stanton Road by turning right off Weston Road so please drive on & take the next right turn (Penfleet Avenue) then just follow the road around the block. This brings you to our store at the very top of Stanton Road.
Is the website secure for my credit card?
Transactions on the site are protected with up to 256-bit Secure Sockets Layer encryption.
Can I legally buy an airsoft gun from Defcon Airsoft?
For guns which are already legal to buy (over 18), please check out the BB Guns section of the site.
You can only purchase a RIF (Realistic Imitation Firearm) if you can prove you are an active airsoft skirmisher at a registered airsoft skirmish site OR have a valid defence for purchasing a RIF under Section 37 of the VCRA – these include the use of realistic imitations for film, television and historical re-enactment.
Proof that you are an active airsoft player can be achieved in one of 3 ways which will need to be supplied to us on our 'Order Page' when purchasing guns:
Provide us with your UKARA number
Provide us with your British Airsoft Club (BAC) number
Provide us with proof of your valid skirmish site membership – this can be a scan of your membership card which can be uploaded to us on the order page. Please note we will check this with the site so verification may take slightly longer than methods 1 or 2. A list of valid skirmish sites we can accept proof of membership from can be found here: http://www.ukara.org.uk/approved-gamesites.php
Most Airsoft Guns we sell can be two toned to allow for legal purchase by non-defence holders – Please see our 'Two-Toning' service HERE
For more information please read our 'Purchasing Guide' HERE.
How long does delivery take?
All orders under 1kg are shipped via Royal Mail 1st class recorded, orders over 1kg are sent by ParcelForce48 (48 hour delivery). Orders received after 3pm will be dispatched the next working day, if an order is processed before 3pm we will endeavour to post the same day.
Can we collect our orders?
You are welcome to collect an internet order from us at our store in Stoke-on-Trent. Just place the order as normal and in the comments box at the checkout please state you wish to collect. We will have your order ready for when you arrive to collect.
Where does the name 'Defcon' come from?
The word 'defcon' comes from the term used to describe the threat level in the United States of America. The level Defcon 4 refers to 'normal, increased intelligence and the heightening of national security measures'. Ground combat is authorised.
How do I submit a news article?
Your news is very important to us. We publish every news article receive, no matter how small, and we aim to have these online within 24hrs of them being received. Simply send your news article to us at admin @ defconairsoft.co.uk with the subject line of 'news submission'. We will reply to you once done, so you know it has gone live.
I've written a review of my gun, will you publish it?
Whilst we carry out nearly all of the gun reviews ourselves, it's a big job and a little help is always appreciated. If you wish to share your thoughts with the rest of the Airsoft world over a particular purchase, we will happily publish your review for you, giving you full credit.
Things to bear in mind are:
Check that a review of that model is not already on-line, Reviews should be around 1500-1800 words, Include a couple of pictures if possible. If in doubt, read some of ours to get an idea where to start.
Got a question or comment? Please use the form below to get in touch: