The NOVRITSCH SSX23 (Version 2020) is a pre-upgraded, extremely quiet Non-Blow Back Pistol. This is the go-to choice of all sneaky snipers out there.
Features
Extremely quiet.
Designed to shoot heavy BBs.
Supreme accuracy.
TDC Hop-up Adjustment
Full Metal slide.
Gas efficient non-Blowback system.
Magazine capacity – 24 BBs.
Threaded barrel for suppressors/tracer units.
Optional Rails for pistol flashlights & Red dots.
Comes in a gun case.
Extensive video library with courses and guides.
Designed by passionate Airsoft players in Vienna, Austria.
Vienna-based Tech support team.
Muzzle Energy: 0.8-1.1 J (0.36g BBs), FPS: 300-330fps (0.20g BBs)
Weight: 510g (without magazine)
Using High-Pressure Gas at more than 10°C can break your magazine's seal!
Follow this chart to make sure your magazines will last for a long time and to get the best performance out of your SSX23.
| | | |
| --- | --- | --- |
| Temperature | Ideal Gas | Ideal BBs |
| 0°C to 5°C | Super High Pressure | 0.28 |
| 6°C to 10°C | High Pressure | 0.36 |
| 11°C to 20°C | Medium Pressure | 0.36 |
| 21°C to 50°C | Low Pressure | 0.36 |
BY THE PLAYERS, FOR THE PLAYERS.
Because of all the accessories and features we integrated into the SSX23, it is the most universal handgun of its kind. There's no need to spend more money on it because it's already fully renovated. It shoots beautifully and will satisfy even the most discerning players.
OVERVIEW OF THE FEATURES
METAL SLIDE
Plastic can sometimes outperform metal. In this case, not true. The metal slide is comfortable to hold and adds to the SSX23's durability. It also accepts red dot sights and comes equipped with a pair of fibre optic iron sights for low-light operation and quick target acquisition right out of the box.
QUIET
The SSX23's greatest advantage is its silence. The pistol is ideal for snipers and gamers who like to remain undetected due to its closed system and small amount of moving parts.
Enemies will have no idea where the shot came from if the modular suppressor is connected.
EFFICIENCY
You can shoot numerous magazines with only one gas charge because there is no blowback or moving slide. The entire amount of gas is used to accelerate the BB. In addition, there are fewer pieces that may wear out.
When compared to a gas blowback pistol, the gas consumption is nearly four times lower. As a result, it continues to function in sub-zero temperatures.
HEAVY IS THE WAY TO GO.
Flat Pressure Plate, TDC, 6.02, 0.36g, ML50 Autobot
Don't worry if you don't understand everything. The SSX23 is an extremely accurate shooter.
In fact, it outperforms standard Assault rifles (AEGs) on the battlefield.
MODULAR COMPONENTS
The SSX23 comes with a variety of accessories that allow you to tailor the handgun to your specific needs. Depending on your playstyle, you can attach red dots, suppressors, flashlights, and lasers to the gun. Everything fits flawlessly, and it's simple to put together. It will also fit in our Holster!
Furthermore, all spare parts are available to ensure that your SSX23 will last for a long time if you ever need to replace it.
WHAT IS INCLUDED IN THE PACKAGE
The SSX23 is packaged with a foam-padded hard shell pistol case, one GAS magazine, Allen key, and the SSX23 manual, which includes a link to the NOVRITSCH SSX23 video academy.
OUR DEVELOPMENT TEAM
Every part that goes into the pistol has been checked and picked by our team of expert airsoft professionals to ensure that you will have a fantastic time with it and that you will have no troubles down the road.
Don't go overboard with upgrades! We've done the work for you, and the finest experience will be had if you leave the SSX23 alone.
Simply take it out of the box, holster it, and go to a game!
ASSEMBLY WITH PRECISION
It's never been easier to adjust the hop. No matter whatever BB weight you wish to utilise, the top screw adjustment allows you endless adaptability. There is no requirement for disassembly.
It also ensures that the bucking pressure is perfectly in the middle, preventing your BBs from curving to the side. For greater FPS and accuracy, the precision 6.02 ML barrel extends all the way to the muzzle.
The SSX23 has better precision than ever before thanks to the new Gen2 TDC architecture.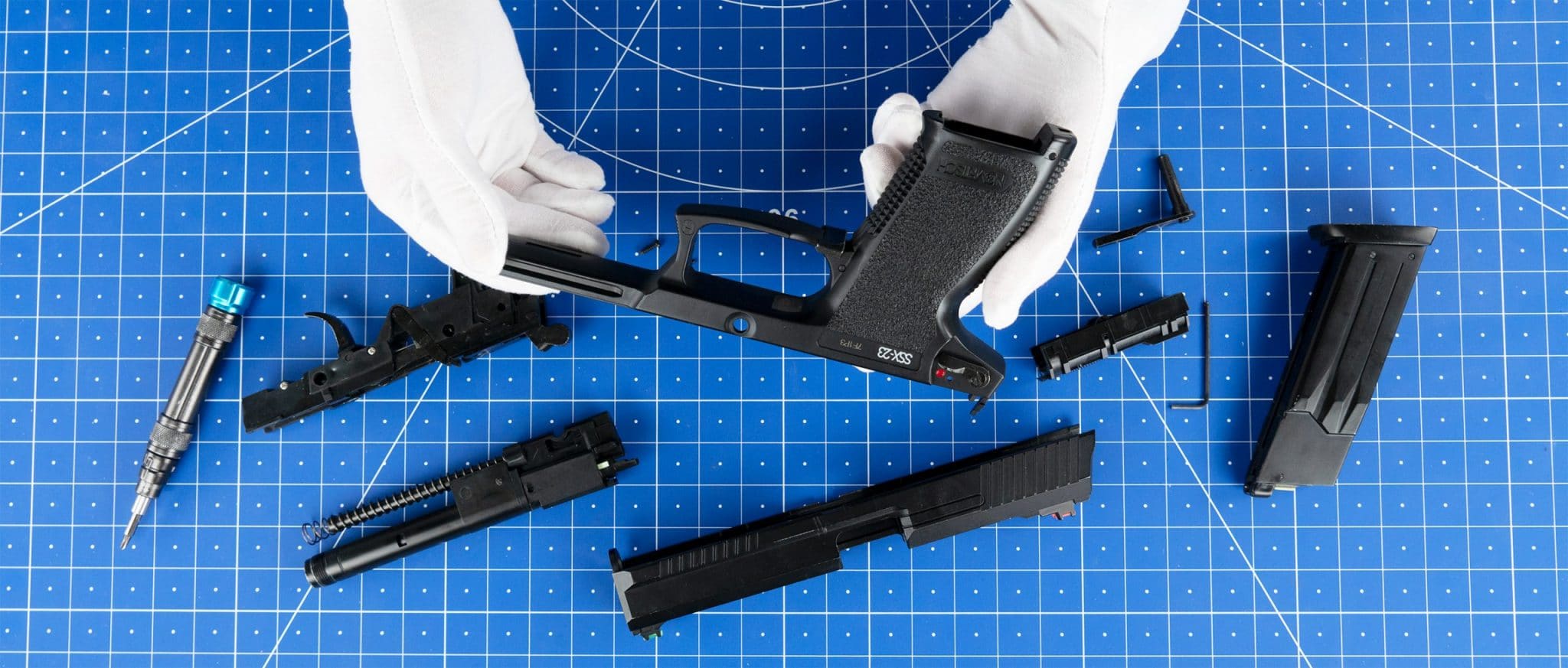 HOLSTER
We understand that being able to rapidly draw your gun in a tense circumstance is just as vital as having a reliable gun that shoots well. As a result, we found the best holster that would function with all of your accessories while not slowing you down. The pistol attaches to the holster with a single click and is retained firmly in place. Another excellent feature is that the magazine cannot be released while the gun is holstered, so you won't lose any of your magazines.
QUICK TRIGGER
The SSX23 magazine's gas path is composed of durable rubber. As a result, the trigger return is quick and consistent. To ensure proper alignment of the gas path and the nozzle, the magazine's shaft has been tightened exceptionally tight around the magazine.
MAGAZINES
The feeding aperture on the bottom of the magazine has been widened to guarantee easy and comfortable filling. You will not have any feeding or double feeding concerns with the new Feedlips Gen2.
ACCURACY & RANGE
The Maple Leaf Autobot 50° bucking, in conjunction with a flat stainless steel pressure plate and a Maple Leaf 6.02 precise inner barrel, provides unrivalled accuracy and range right out of the box.
The gun can effortlessly hop heavyweight BBs, outranging most ordinary AEGs on the battlefield.